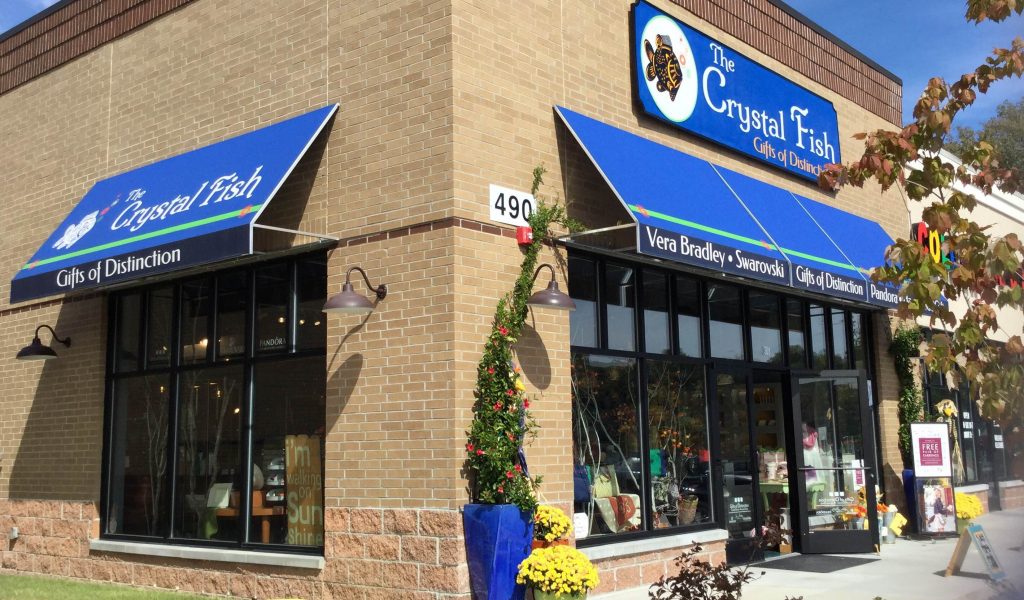 In our store, it's a good chance we know your name — or at least your smile. We care about your experience, which is why we go to the extra mile to find exactly what you need. Don't miss us while you are in town — we're locally owned and thrilled to share our shop with you.
We've been greeting and serving our customers for over 35 years in Branson, Missouri. Our beautiful waterside storefront is in the Lakeside Shoppes at the convergence of Roark Creek and Lake Taneycomo. The water is literally feet from our door!
Questions? Check out our FAQ page.
[testimonial_view id="1″]
Buying gifts is very personal — we help make it meaningful.
One of the many things that make us unique is our contemporary handmade goods crafted by local artisans. These include pottery, blown glass, jewelry, beautiful oil lamps, organic soap, bird feeders, wind chimes, lake maps and lake decor — and the list goes on.
We shop world markets for unique and different items to carry in the store, including gifts for every age. Along with our spotlight on local and handmade items, we carry several esteemed national brands:
Swarovski crystal jewelry and figurines
Spartina 449 handbags and jewelry
Pandora jewelry and charms
Corkcicle eco-friendly canteens and tumblers
Nora Fleming table top serving pieces
There is always a great deal going on, an amazing promotion, or gift with purchase or drawing. We don't usually do things in a little way. We do it big and we do it right.
The atmosphere at The Crystal Fish Gifts is an experience all its own. Lurking about the shop are a few quirky animals, the most prestigious of which is "Bubbles", our stunning, sparkling 3′ x 4′ foot sun-perch. Bubbles contains over 3000 Swarovski crystals and was sculpted by internationally acclaimed wildlife sculptor Tim Cherry. And there's more — Dottie Mae II, a brilliant bovine with a crystal tiara and collar, and then you must meet Myrtle the turtle.
Giving back is important, so we donate tons to fundraisers and charities. We're humbled by the repeated recognition and achievements we have received from our customers, product vendors, and community.
We're sensitive to your time and we know it's precious, so we offer front door parking as well as a lightning fast checkout system. But we also have ducks to feed at the back door, and the best conversations in town, so why hurry? We know where the locals here in Branson go and hang out too — just ask (we're happy to share the best restaurants and activities, especially the ones that don't make the tourist guides).
You deserve the best, and that's why we stand behind what we do. If we goofed, we'll make it right toot-sweet. Buying gifts is very personal — we help make it meaningful.